Items
T-shirts
More items coming soon...
Online Ordering?
We'd love to do online ordering, but at the moment the costs are prohibitive. If you would like to have handy, convenient point-and-click ordering, the best way for it to happen is to buy so much merchandise it becomes feasible to spend the money ;-)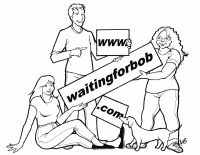 Shirt design
T-Shirts
Show your allegiance, promote our comic, don't be naked. The official Waiting for Bob t-shirt is sure to be a collector's item that is absolutely guaranteed to increase in value(1).
The shirts are 100% cotton and available in M, L, or XL. The cost is $17.00 U.S. each. This includes shipping if you are in the U.S. or Canada. Outside the U.S. and Canada, the cost is $20 U.S. each, including shipping.
To order, send a check payable to Katrin L. Salyers, drawn on a U.S. bank, or an international money order to the address below. Be sure to specify what size shirt you want.
Waiting for Bob
PO Box 151158
Lakewood, CO
80215-1158