If you came to this page via a link, you may be looking for today's comic.
Yes, that's who you think it is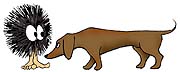 We're spending the week at the world's most dysfunctional Internet Service Provider, Columbia Internet. Tune into User Friendly from Tuesday to Saturday of this week for the other half of the story.
(Well, okay, there's been a crossed wire or two. But read UF anyway; it'll do you good.... And to be honest, the server pounding we got from UF's link to us was sort of scary. We're not sure Doug could survive a week of that.)
And while you're waiting, here's some preview art: Miranda and AJ!
Poll results
Oh, ye of little faith. You're off the Christmas card list.
(Well, except 48 of you. Out of 394. I am shocked, shocked and appalled.)