If you came to this page via a link, you may be looking for today's comic.
Happy Anniversary to Us!
It's been two months since we launched the strip, and what a trip it has been!
Since that first comic we've met a lot of cool milestones, and here's a few of them:
We served our 100,000th hit this weekend.
We got into print! One comic a week is currently being featured in the University of Colorado at Denver student newspaper, The Advocate.
Doug actually got paper junk mail addressed to Waiting for Bob.
Kat bought a toilet paper dispenser in Toronto with her name on it.
There's magic in the air, kids. It rocks my world that y'all read our comic. Thanks, take care, and stay good.
---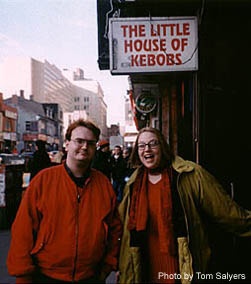 So much has happened in the last two months, it actually seems longer in some ways.
Doug and I met in person for the first time as collaborators (the second time ever) in February on a trip to Toronto. We also got to hang out with a few hundred of our closest friends, distribute copies of the "Tripping Out" story, take in some incredible music and generally have a groovy time.
In addition to all the other wonderful people that made our vacation rock, a special mention goes to the people and kittycats at the Hairy Tarantula comic store on Yonge Street, right next door and upstairs from where this photo was taken. Remember, Americans, the Canadian price on books (including comics) combined with the exchange rate still makes for some tasty savings, so pay 'em a visit and spend your money freely!
Thanks also to the undoubtedly still-perplexed staff of the Royal Thai restaurant for giving me a unique souvenir from their restroom, free of charge...and to the people at Customs for not asking me any questions about bringing the thing back over the border.
In other milestones, I got my hair cut, so I suppose now I need to change that picture on my bio. It's been a great first couple of months, and the support we've gotten from our readers is just amazing. Thanks so much to all of you. Stay tooned!